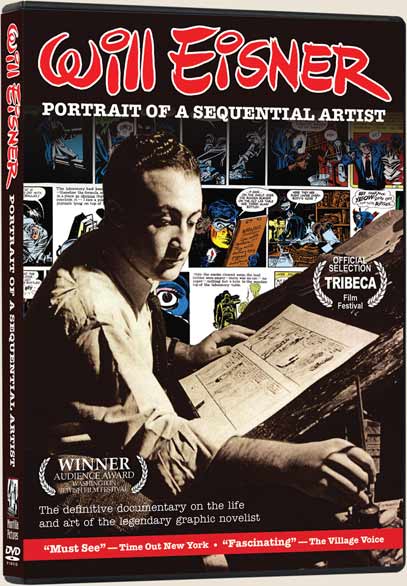 Arguably the most influential person in American comics, Will Eisner, as artist, entrepreneur, innovator, and visual storyteller, enjoyed a career that encompassed comic books from their early beginnings in the 1930s to their development as graphic novels in the 1990s. During his sixty-year-plus career, Eisner introduced the now-traditional mode of comic book production; championed mature, sophisticated storytelling; was an early advocate for using the medium as a tool for education; pioneered the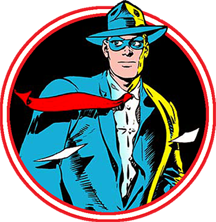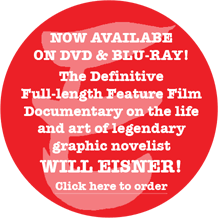 now-popular graphic novel, and served as inspiration for generations of artists. Without a doubt, Will Eisner was the godfather of the American comic book.
The award-winning full-length feature film documentary includes interviews with Eisner and many of the foremost creative talents in the U.S., including Kurt Vonnegut, Michael Chabon, Jules Feiffer, Jack Kirby, Art Spiegelman, Frank Miller, Stan Lee, Gil Kane, and others.
(Color-B&W / 96 min. / Not Rated / 2010 /USA)


"A great companion to the book '[The
Amazing Adventures of] Kavalier and Clay.'"
— Alison Bailes, NBC's Reel Talk

"An essential doc for comics fans,
'Portrait' will also enlighten the curious."
— John DeFore,
Austin American-Statesman

"Entertaining and insightful.
A great film about a visionary artist!"
— Jeffrey Katzenberg

"A brilliant portrait of a man whose
influence on the popular culture of the
20th Century cannot be overestimated."
— Zak Penn

"The sign of any good documentary is if it makes a person who wasn't a die-hard fan of the subject or genre it's exploring want to learn more. And 'Portrait' does just that."
— Joel Keller, The Huffington Post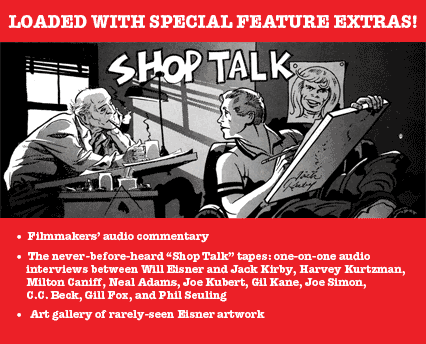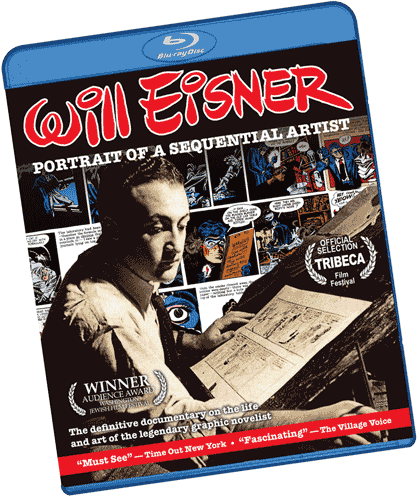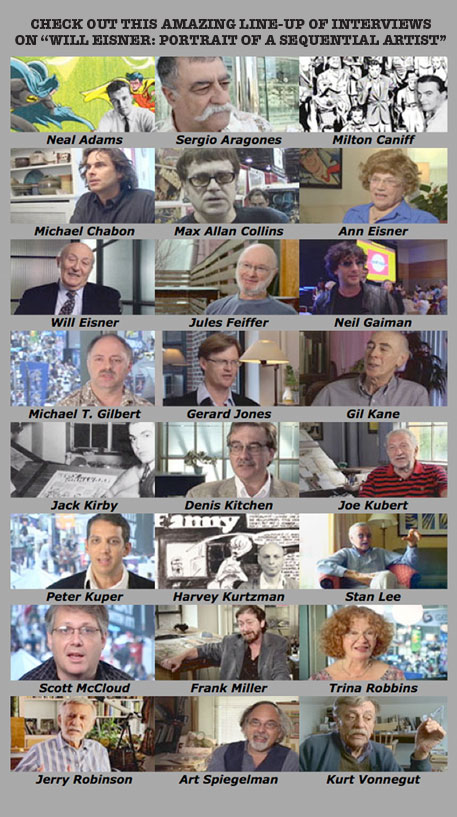 Web site ©2010 Montilla Pictures / Will Eisner: Portrait of a Sequential Artist ©2010 Sequential Artist, LLC.
The distinctive Will Eisner signature is a trademark of Will Eisner Studios, Inc. The Spirit is a registered trademark ® of Will Eisner Studios, Inc.